Back to Newsroom
Color season is here, and that means it's time for one of the great autumn traditions: a day trip outside New York City to see the fall foliage and enjoy some time outdoors. Whether you're looking for great hiking, a chance to see nature and art together, or a relaxing sail on the Hudson River, these one-day outings are just what you need.
One-day getaways to the Appalachian Trail
To start, here's an insider tip that's unknown to many visitors and even New York residents: On weekends, you can ride the Metro-North Harlem Line 65 miles north from Grand Central Station to a stop right on the Appalachian Trail. "It's the only train stop that's right on the Trail," says Stancy DuHamel, co-chair of the Harlem Valley Appalachian Trail Community. "So you can take a train up there, walk the Trail, and come back."
You'll need to bring most of your food supplies, because there are no restaurants or sandwich shops in this rural setting. But there's a store called Native Landscapes adjacent to the stop, and you can buy snacks and use the bathroom there.
From the train stop, "You can go in either direction and have a really nice hike," DuHamel says. One option is a trek to Dover Oak, a six-and-a-half-mile hike (round trip), "and that's really not hard. There's an uphill through the woods, but you just take breaks. And then if you're going in the other direction, there's a relatively easy hike with just a slight slope, and you go along a field that's in use, actively farmed, and that's really pretty. So there's a variety, and it's really nice to get out there."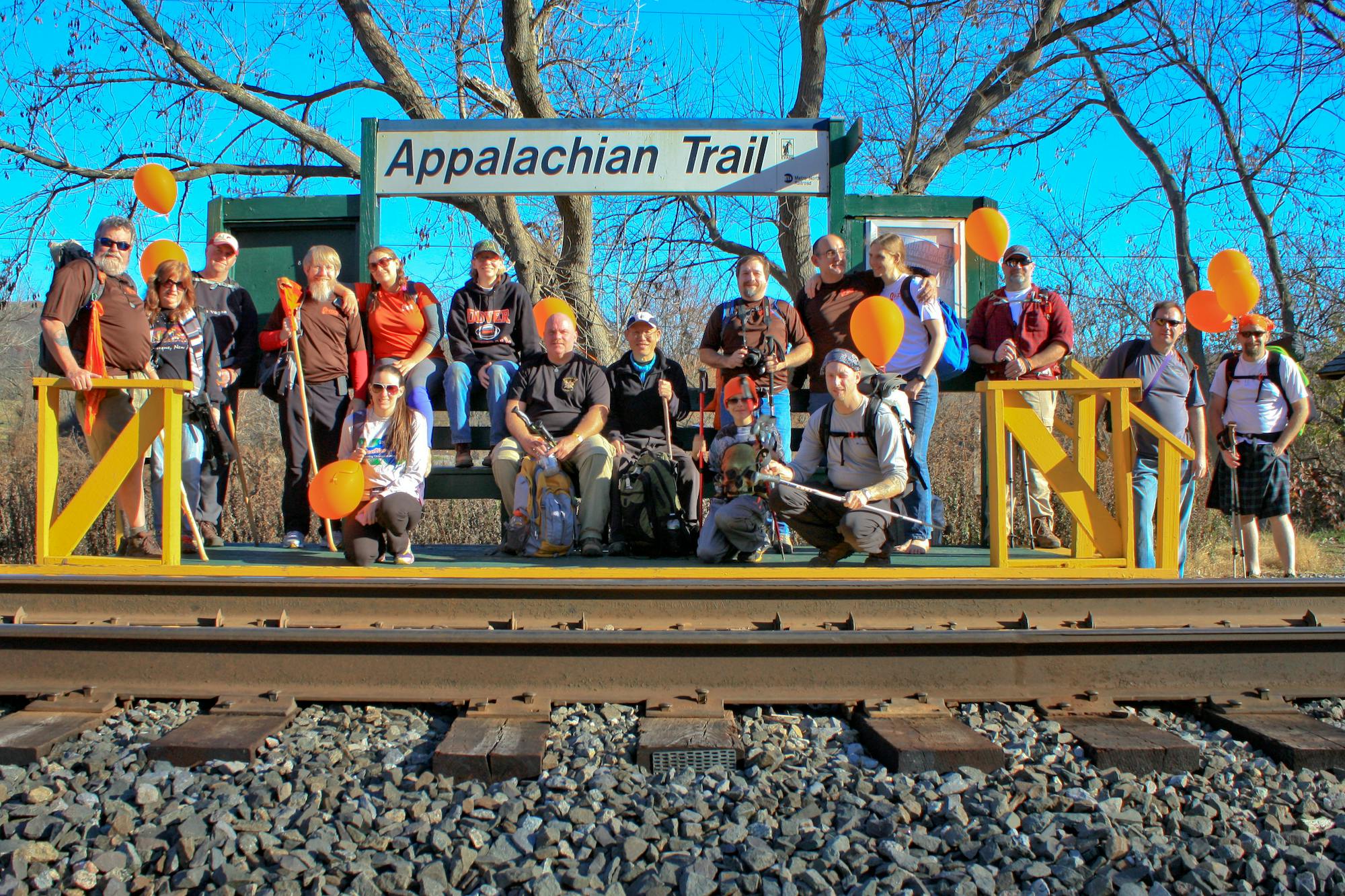 Check the Metro-North schedules page for the latest information on train departures and arrivals. At our publication time, there were departures (remember, weekends only) from Grand Central at 7:10 (arrival at 9:44) and 9:10 (arrival at 11:45) in the morning. Return trains depart the Appalachian Trail stop at 2:11, 4:11, and 6:11 in the afternoon for arrival in Grand Central at 4:47, 6:46, and 8:46.
Want to do some more research before you go? Check out the Appalachian Trail Conservancy's online resources, including its guide to the basics and interactive map of the Trail, or email [email protected] with specific questions or information requests. And if you'd like to become part of the local community, there's an event planned from 10 a.m. to 2 p.m. this Saturday, October 19, at Native Landscapes with information about hiking and conservation, activities for kids, and more.
Stroll the grounds of the Hudson Valley's outdoor art museum
The 500-acre grounds of Storm King Art Center provide a spectacular natural setting for enjoying large-scale sculptures and other commissioned works. In addition to its permanent collection, the museum organizes special exhibitions and installations that may be displayed in its "outdoor galleries" or in its Museum Building.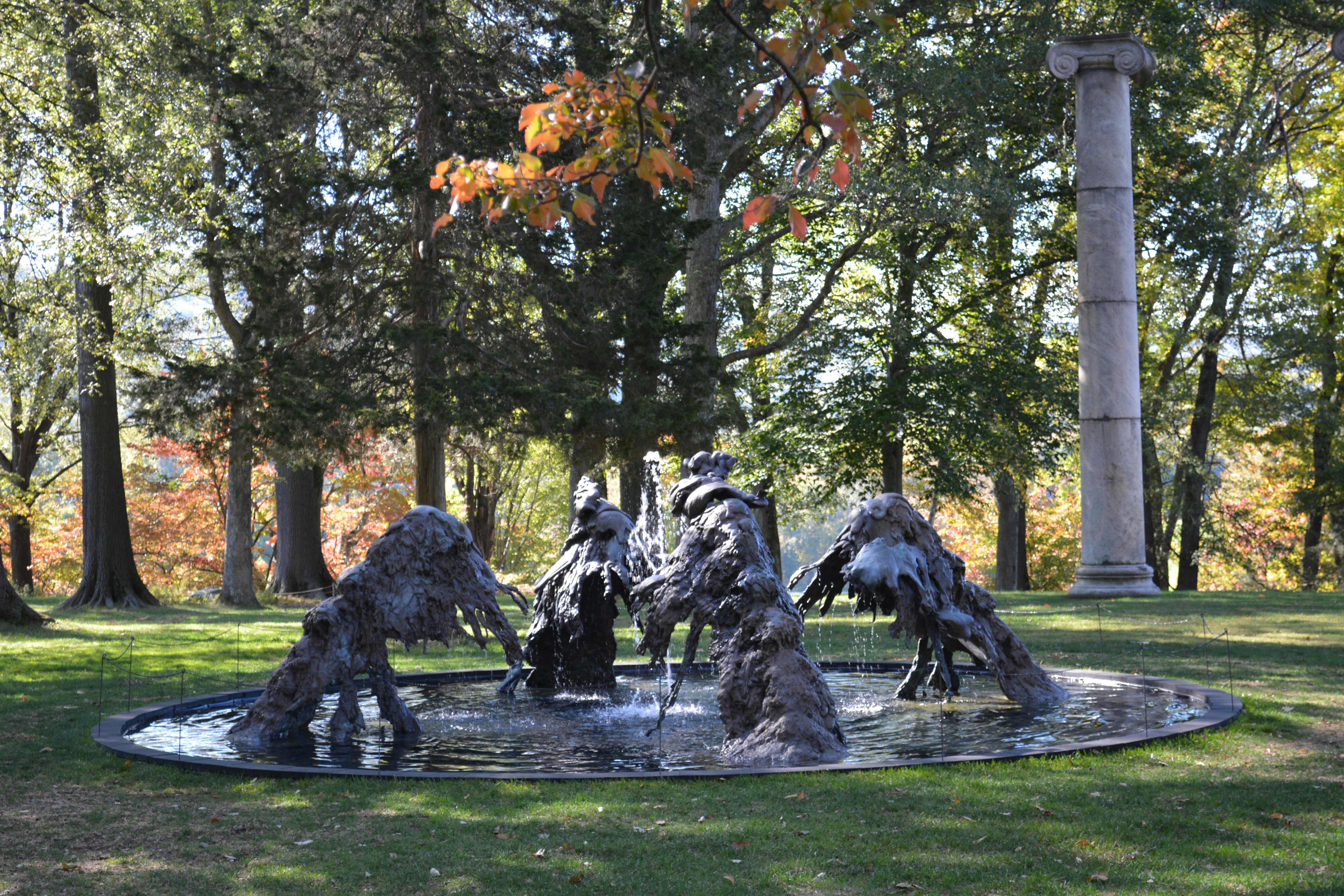 Storm King has partnered with Metro-North to provide access to the site by mass transit. You can buy a package ticket that includes your fare to the Beacon Station, the free shuttle service to and from the station, and discounted admission to the museum. The package is available only on Saturdays, Sundays, and holiday Mondays, and you must purchase in advance. Book your seat here.
Food options at Storm King include the Outdoor Café and the Café Cart. Their menus include sandwiches, wraps, soups, salads, snacks, and drinks.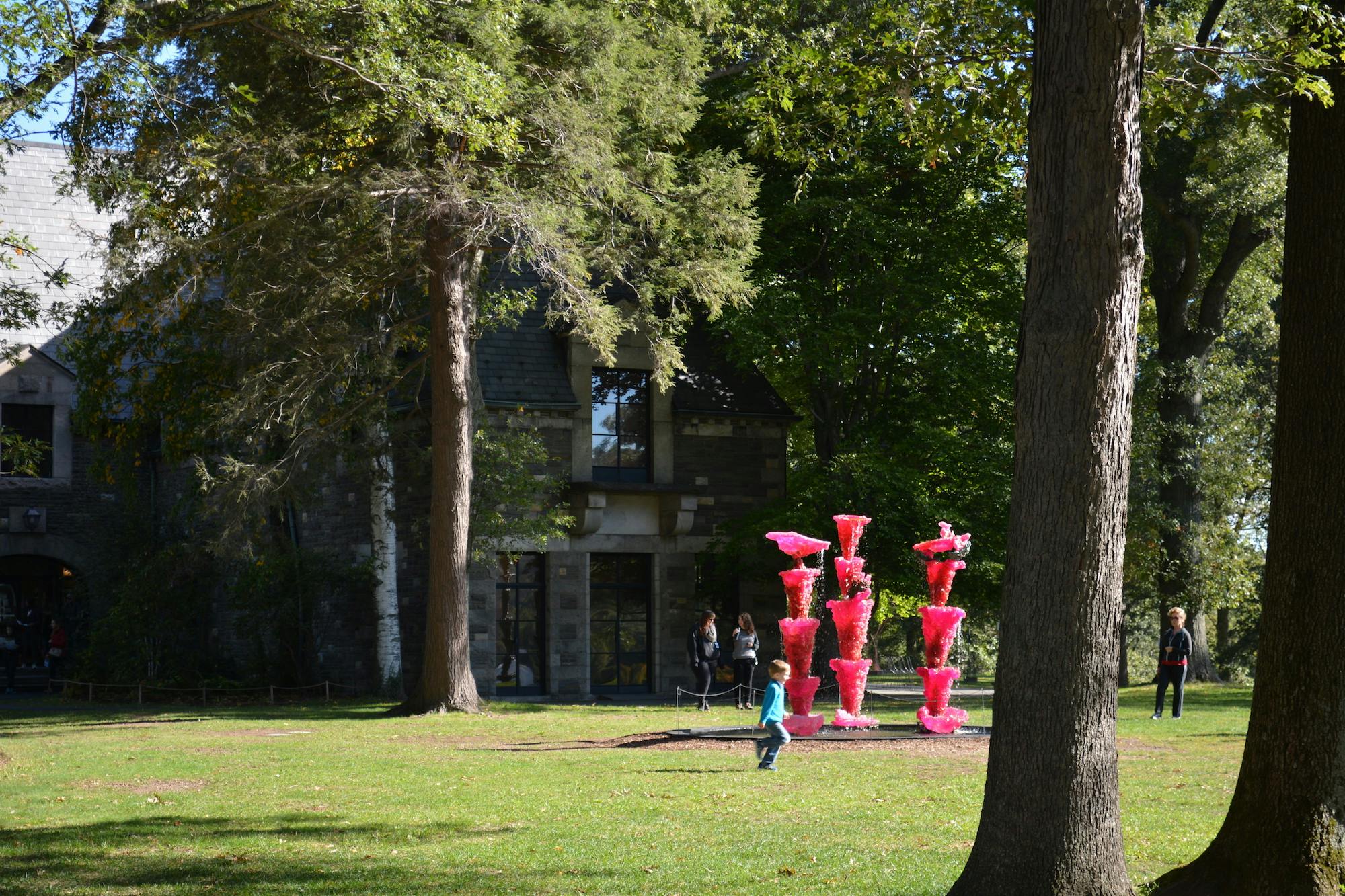 Sit back, set sail, and enjoy a relaxing Hudson River outing
And if you don't want to engage in any physical exertion beyond the effort it takes to lift a glass and toast the Hudson River, book passage on a Classic Harbor Lines fall foliage day cruise. As you head north past the city, you'll have a chance to admire the Palisades and the Hudson River Valley during its most colorful season.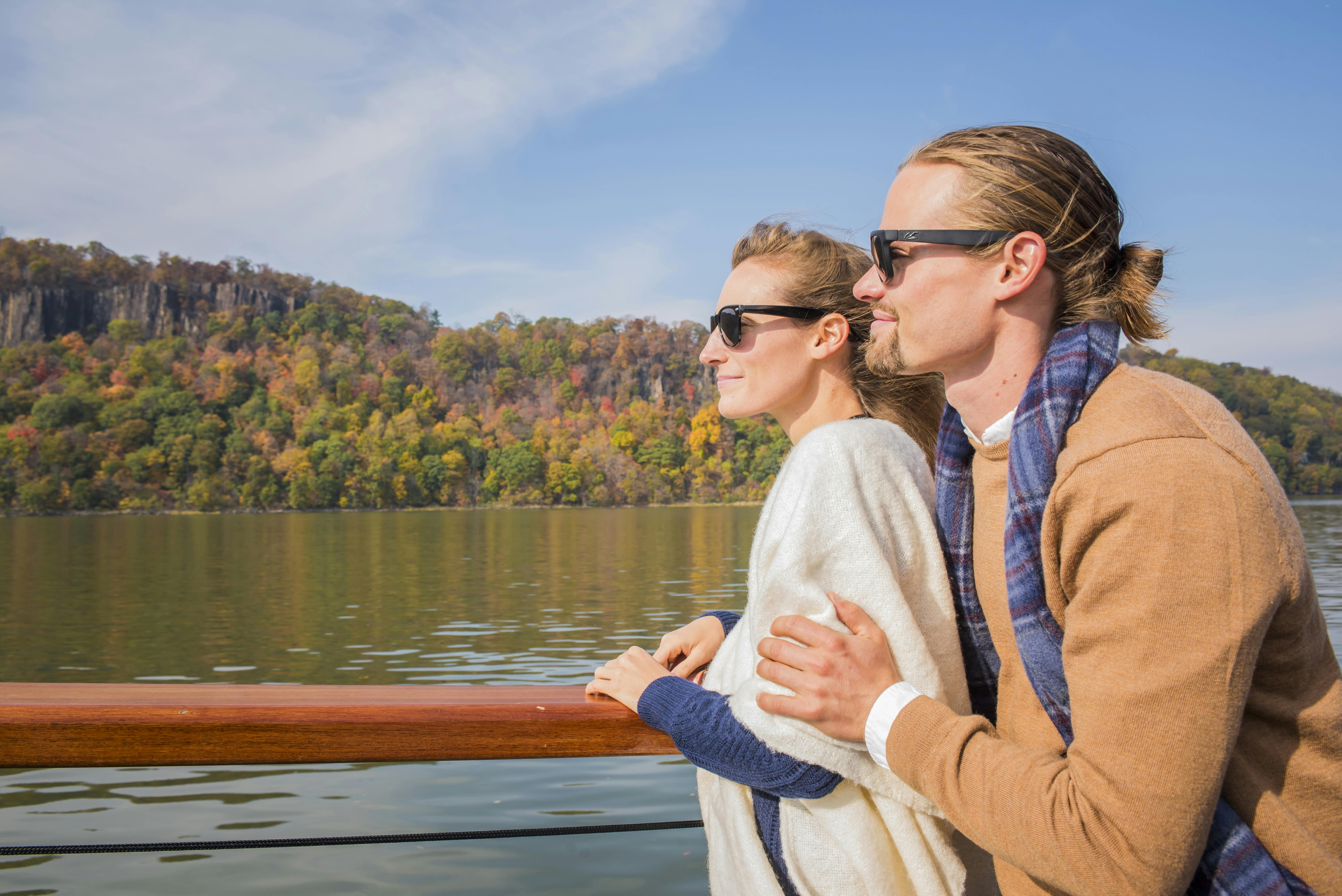 Options include brunch, lunch, and bring-your-own picnic outings that run from 2.5 to 3.75 hours. You can choose from a variety of types of ships, as well, including yachts and a sailing schooner.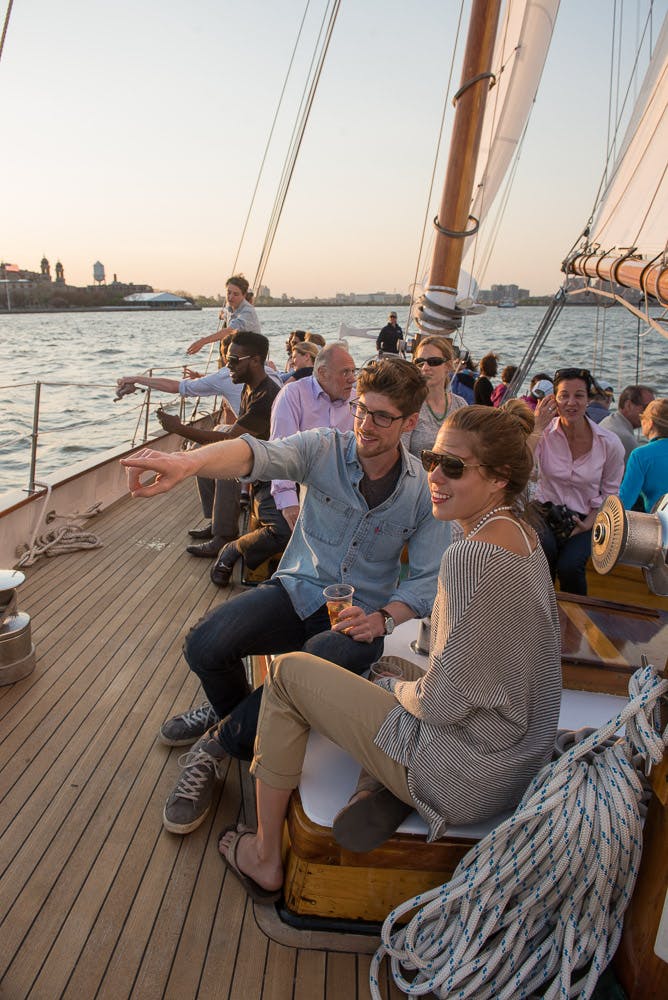 Note that all cruises are rain or shine. When you book, check to see whether your preferred ship has heated indoor spaces in addition to outdoor decks, and plan your wardrobe accordingly. And don't forget to bring your camera to capture the spectacular show nature has in store for you!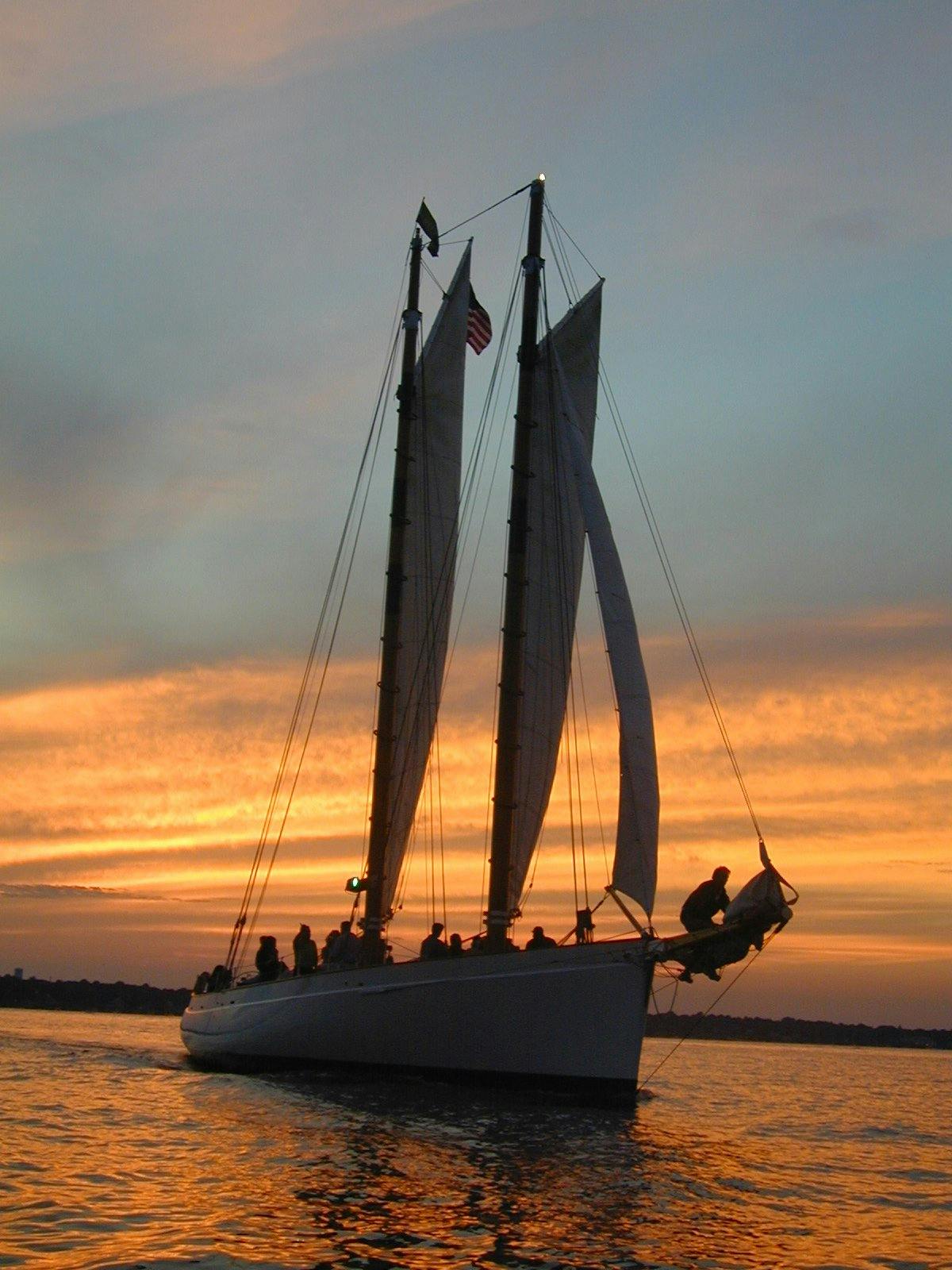 Header photo credit: Justin P. Goodhart Photography