Back to Newsroom
New York, NY – November 30, 2020 – This week JFKIAT, the operator of Terminal 4 at John F. Kennedy International Airport, in partnership with The Tony Awards, installed a Tony Medallion at Terminal 4 to celebrate the unmatched entertainment that New York City provides on Broadway.
Stationed on a red carpet in the Retail Hall in front of The Palm Restaurant at T4, the 15-foot tall statue represents one of New York City's most iconic cultural institutions. Through centuries of change and times of crisis, visitors from around the globe have flocked to Broadway to see world-class talent work their magic and be swept away by stories. The Tony Medallion installation serves to remind travelers that Broadway will still be here when New York City's cultural landscape reopens once again.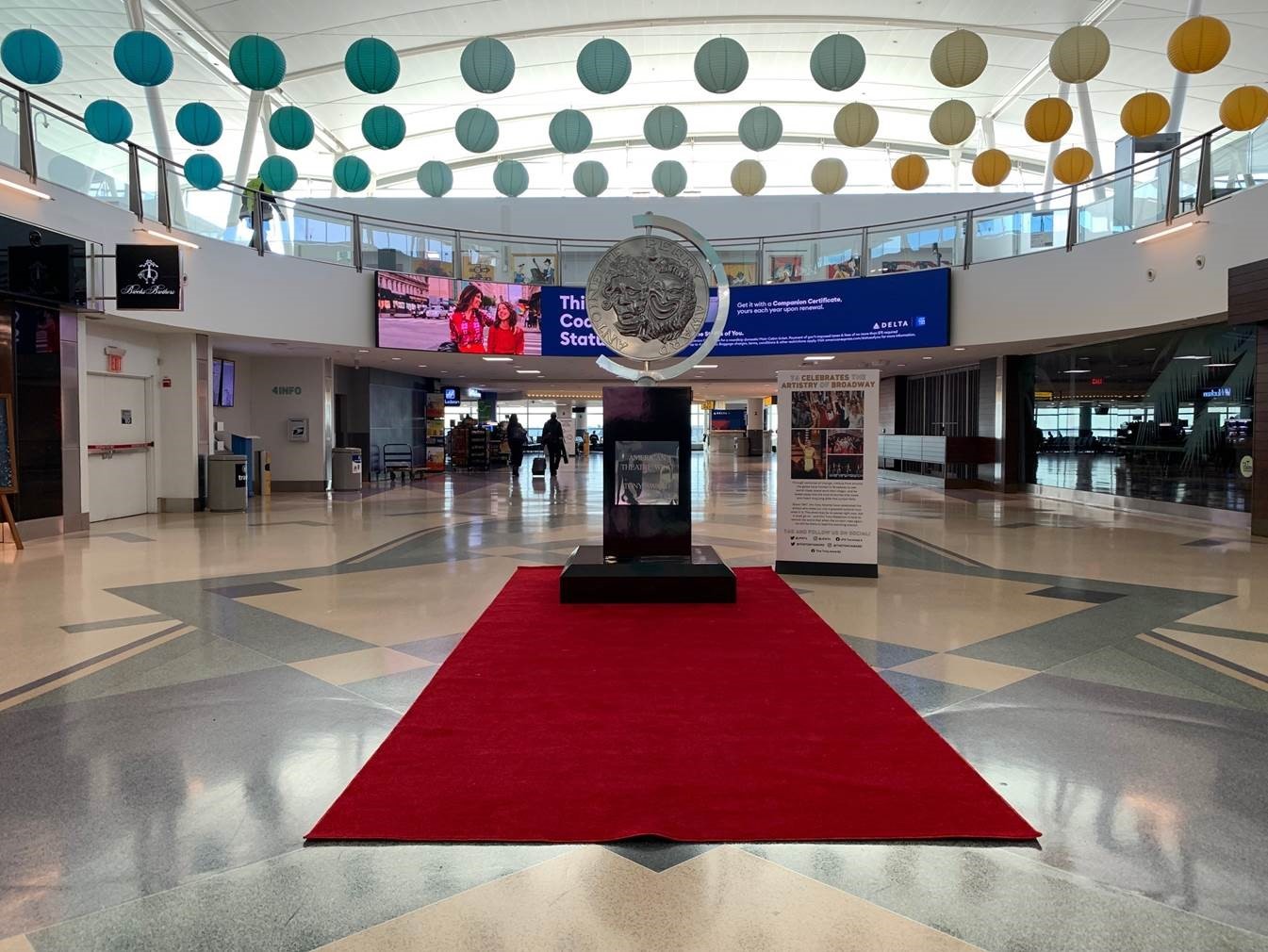 "At JFKIAT, we are proud to be a part of the New York community and all that the city has to offer," said Roel Huinink, President and CEO of JFKIAT. "We are very excited to have this symbolic installation in our terminal to remind us and our passengers of one of the most celebrated parts of the city that brings so many people joy. We are looking forward to seeing Broadway shows again, when it is safe to do so."
"When visitors arrive in New York for the first time, they are greeted by all of the icons that define our city – including the bright lights of Broadway," said Charlotte St. Martin, President of The Broadway League, and Heather Hitchens, President & CEO of the American Theatre Wing. "It feels fitting for our Tony Medallion to be part of that tradition at T4. We hope that the installation inspires all who pass by to imagine the day that the curtain will rise again, when we at The Tony Awards will be there to lead the standing ovation."
T4 at JFK International Airport is one of the most active air terminals in the New York area. From the start of the COVID-19 pandemic, JFKIAT, in collaboration with the Port Authority of New York and New Jersey and government agencies, took immediate action and implemented key response initiatives focused on health, hygiene, safety and creating a contactless journey for employees and passengers. JFKIAT has also taken steps to prepare for a "new normal" as the aviation industry enters a post-COVID-19 landscape by collaborating closely with business partners and stakeholders to keep the terminal safe and secure, while winning back customer confidence as flights begin to resume.
About JFKIAT
JFK International Air Terminal, LLC. (JFKIAT) is the operator of Terminal 4 at John F. Kennedy International Airport, one of the most active air terminals in the New York area, serving 33 international and domestic airlines with an annual passenger volume of more than 21 million travelers in 2019. Terminal 4 is the first existing airport terminal in the U.S. to receive LEED Gold certification by the United States Green Building Council (USGBC) for operations and maintenance. The Terminal's expansive Retail Lounge offers an unparalleled experience for travelers with a wide range of food and beverage and retail options, from chic to upscale and from convenience stores, to electronics, accessories and gifts. Terminal 4 was the first air terminal in North America operated by a private management company. JFKIAT's managing member is Schiphol USA Inc., a U.S. affiliate of Royal Schiphol Group.
Visit us at http://www.jfkt4.nyc, like us on Instagram and follow us on Facebook and Twitter.
# # #
Contact: Patrice Rajacic
JFKIAT
(212) 402-3486