Back to Newsroom
Gina Battagliola was awarded the 2019 TSA JFK International Airport Partnership Award at the JFK Annual Award Ceremony
Queens, New York – December 3 – Gina Battagliola, Senior Construction Manager for JFKIAT, was recently awarded the 2019 TSA JFK International Airport Partnership Award. She received the award at the JFK Annual Award Ceremony hosted in partnership with TSA.
Gina was nominated for this award for her outstanding leadership and management during the installation of the Automated Screening Lane (ASL) features at Terminal 4. This project was a collaborative construction initiative across many departments involving JFKIAT, Delta, and TSA.
"We are proud of Gina for the exceptional leadership she exhibited during this initiative and all her hard work that went into completing this installation," said Roel Huinink, JFKIAT President and CEO. "This recognition reflects JFKIAT's commitment to fostering collaboration with our partners in order to bring innovative enhancements into the terminal."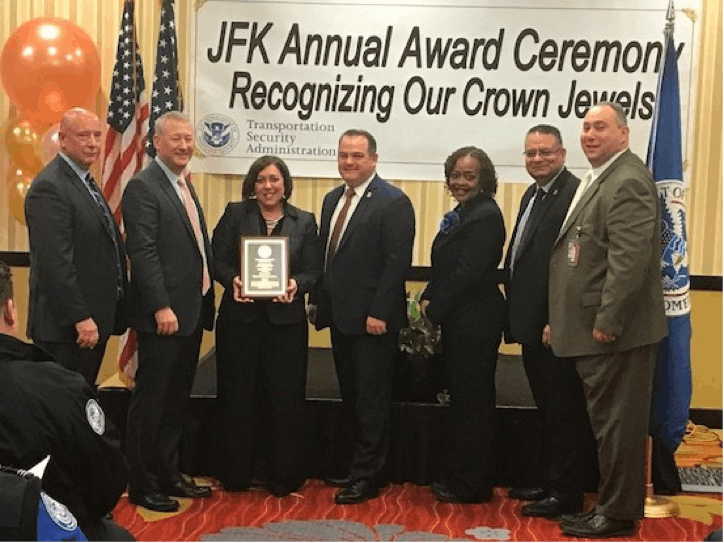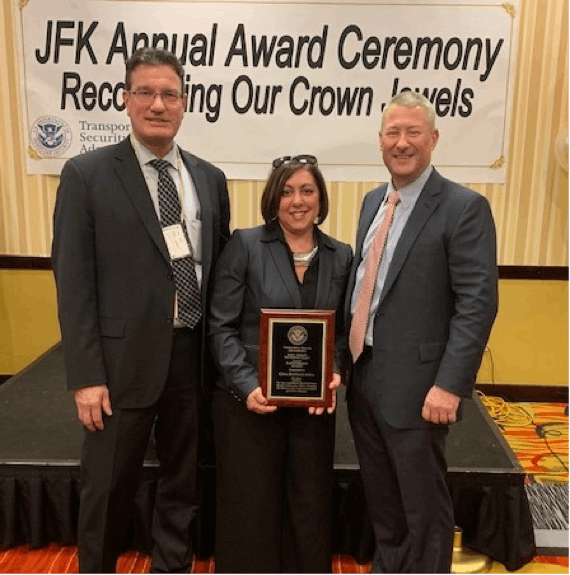 About JFKIAT
JFK International Air Terminal, LLC. (JFKIAT) is the operator of Terminal 4 at John F. Kennedy International Airport, one of the most active air terminals in the New York area, serving 34 international and domestic airlines with an annual passenger volume of more than 21 million travelers in 2018. Terminal 4 is the first existing airport terminal in the U.S. to receive LEED Gold certification by the United States Green Building Council (USGBC) for operations and maintenance. The Terminal's expansive Retail Lounge offers an unparalleled experience for travelers with a wide range of food and beverage and retail options, from chic to upscale and from convenience stores, to electronics, accessories and gifts. Terminal 4 was the first air terminal in North America operated by a private management company. JFKIAT's managing member is Schiphol USA Inc., a U.S. affiliate of Royal Schiphol Group.
Visit us at http://www.jfkt4.nyc, like us on Facebook and follow us on Instagram and Twitter.