Back to Newsroom
There's no shortage of laughter in this city. Around here, if you ask the classic question—"What are you, some kind of comedian?"—there's a good chance the answer will be, "Yes!"
From stand-up to rom-coms to improv comedy training for corporate teams, we love to share a good group giggle or guffaw. From November 4–10, the New York Comedy Festival offers us the chance to indulge our love of laughter at comedy shows throughout the city. And some of those shows will also give us a chance to provide support to those who need it.
The lineup is a snapshot not only of what comedy looks like today, but also of the diversity of cultures and perspectives at the core of New York City's identity.
You'll find shows devoted to Hilarious Colombian Americans, a foursome who bill themselves as Made in India, and a bi-coastal variety show called Asian AF. Then there's North Coast: Hip-Hop Improv Comedy. Inter-generational comedy from the mother-daughter team behind I Got It From My Mama. And of course LGBT voices are as well represented as you'd expect—check out Zach Zimmerman, Here & Queer: Laugh Till You're An Ally, and The Lesbian Agenda with Sophie Santos.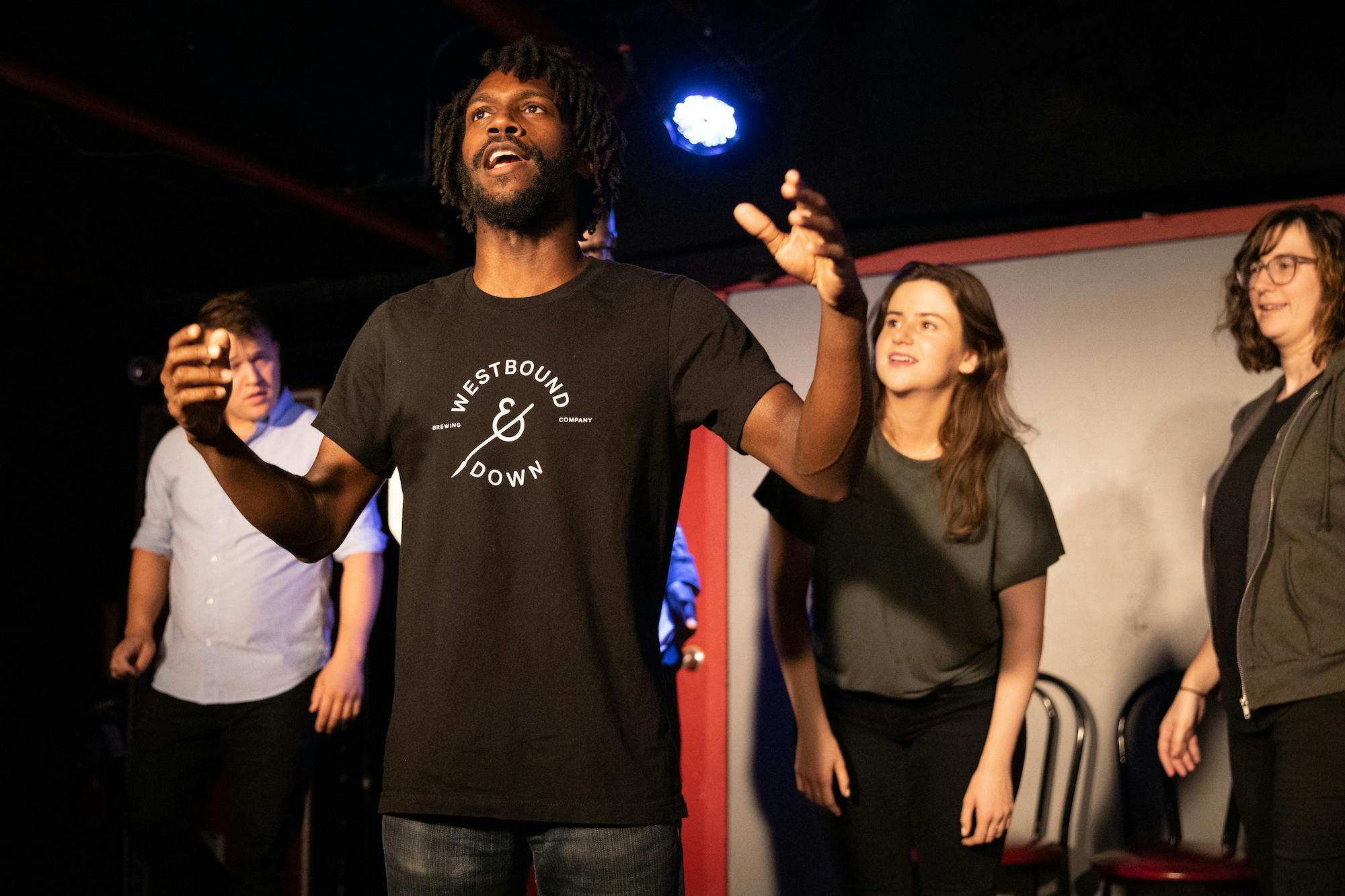 But you don't have to share the performers' life experiences to get their jokes. "When it comes to these segments, we write what we think is funny," says Santos, a writer and actress as well as a comedian. "And at the end of the day, even if it's niche, and even if it's for the queer women in the room, if it's done well, it can resonate with everybody." To get a sense of how strong the crossover component is in comedy today, consider that The Lesbian Agenda is sponsored by National Lampoon.
You'll find international stars on the festival roster, too, including a group that's presenting Stand Up For Heroes. On the bill this year are Ronny Chieng, Hasan Minhaj, John Oliver, Bruce Springsteen, Jon Stewart, and "surprise guests."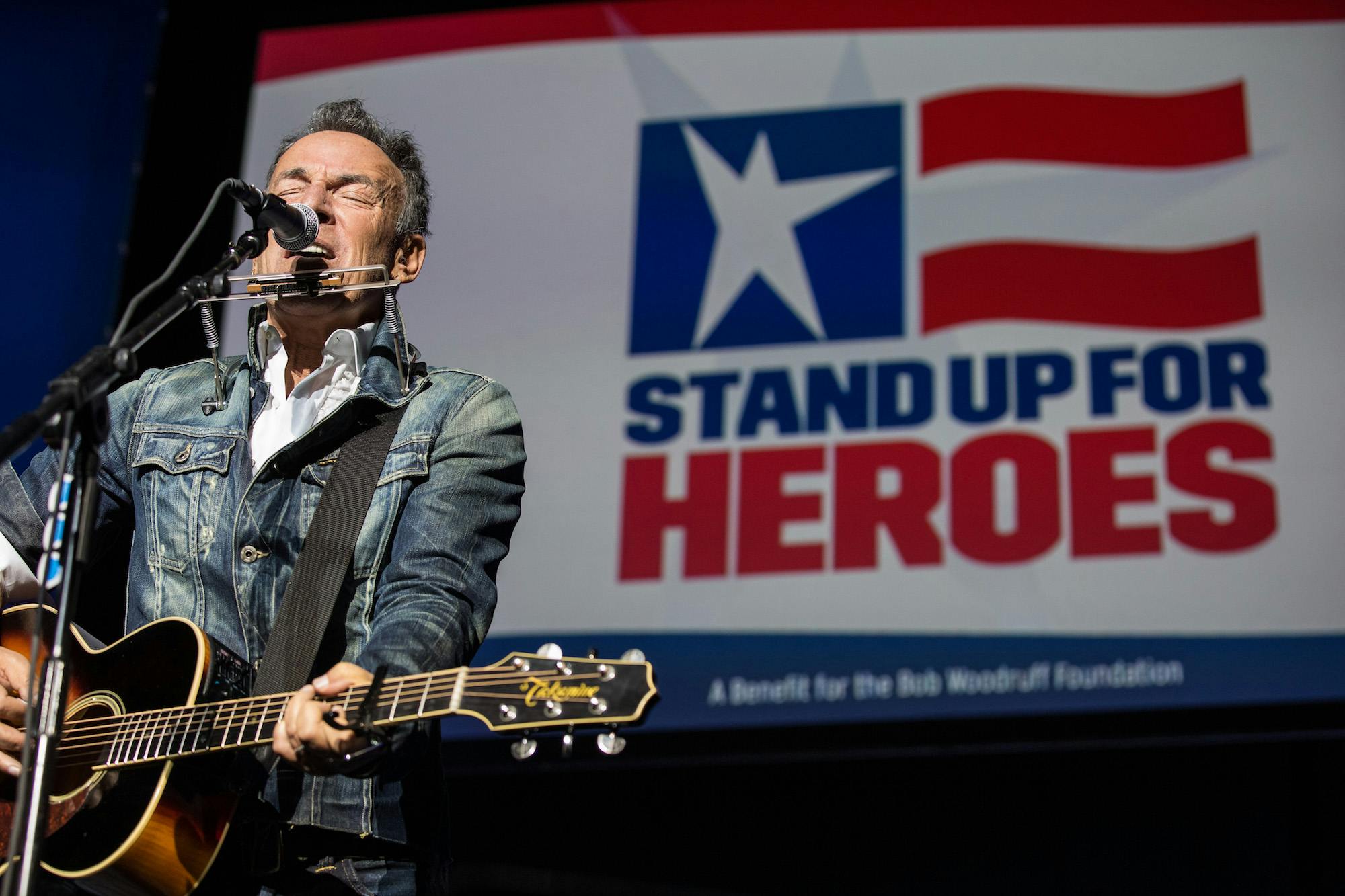 This is the thirteenth annual presentation of the show, which benefits The Bob Woodruff Foundation. The organization works with community and national programs "to create healthy, positive futures for our service members, veterans, and their families." To date, the foundation says it has invested $55 million, awarded nearly 400 grants, and reached 2.5 million veterans and their families. Click here to read more about its impact and its project partners, The Warrior-Scholar Project and Team Red, White, and Blue.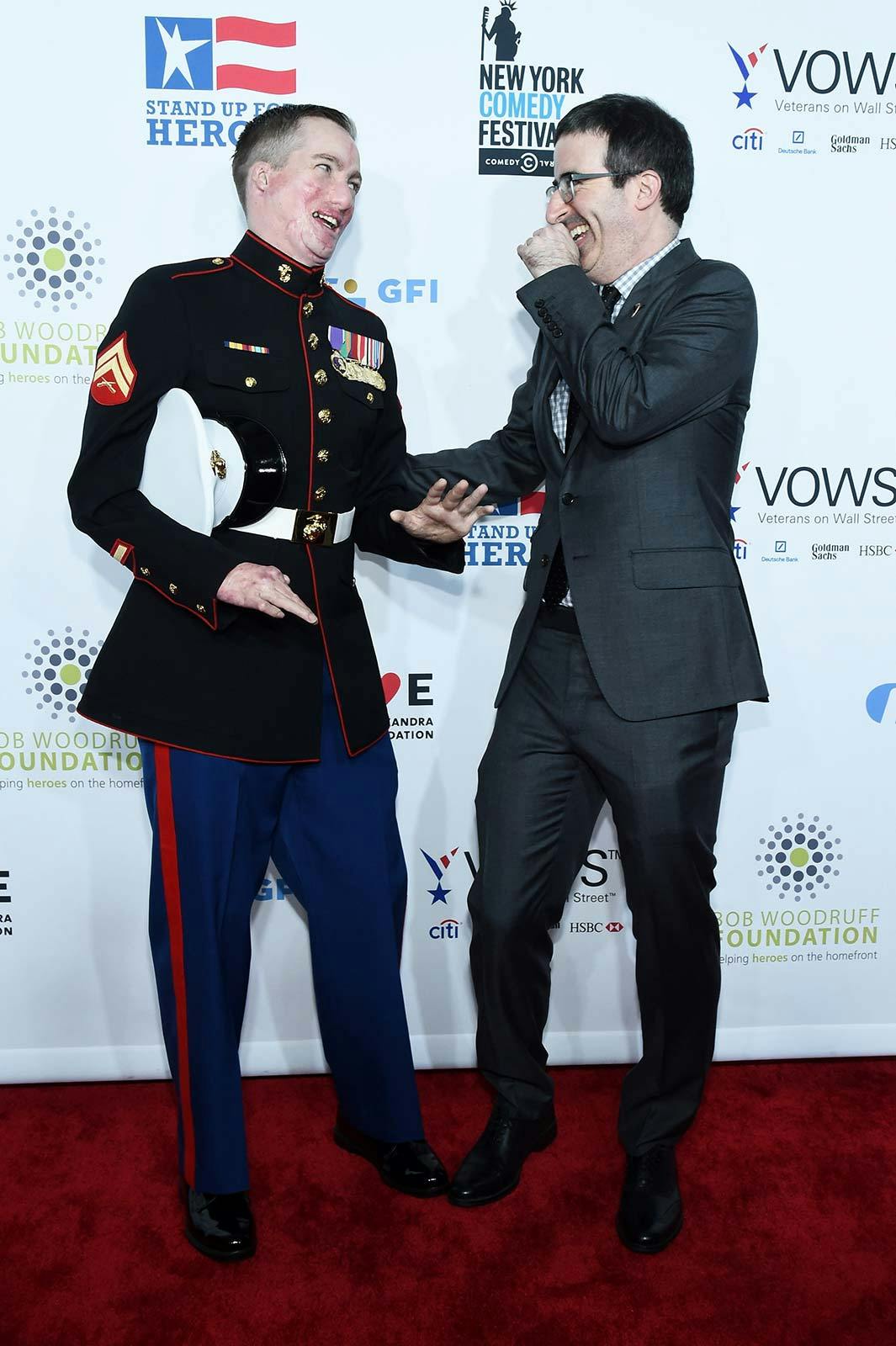 And as Veteran's Day approaches, another performing arts organization is offering its support to veterans, too.
Last week, TDF announced the launch of the third season of its TDF Veterans Theatregoing Program, which is supported by a $135,000 grant from the New York City Council and Department of Cultural Affairs. The funds will "help New York City veterans attend Broadway shows and share the experience with others from their community," according to the announcement from TDF, which "partners exclusively with veteran group organizations in the city who distribute a limited number of tickets to Broadway shows at no cost to their constituents." The veterans also receive complimentary TDF memberships so they can enjoy discounts on more live performances. (Click here to see if you're eligible to be a TDF member.)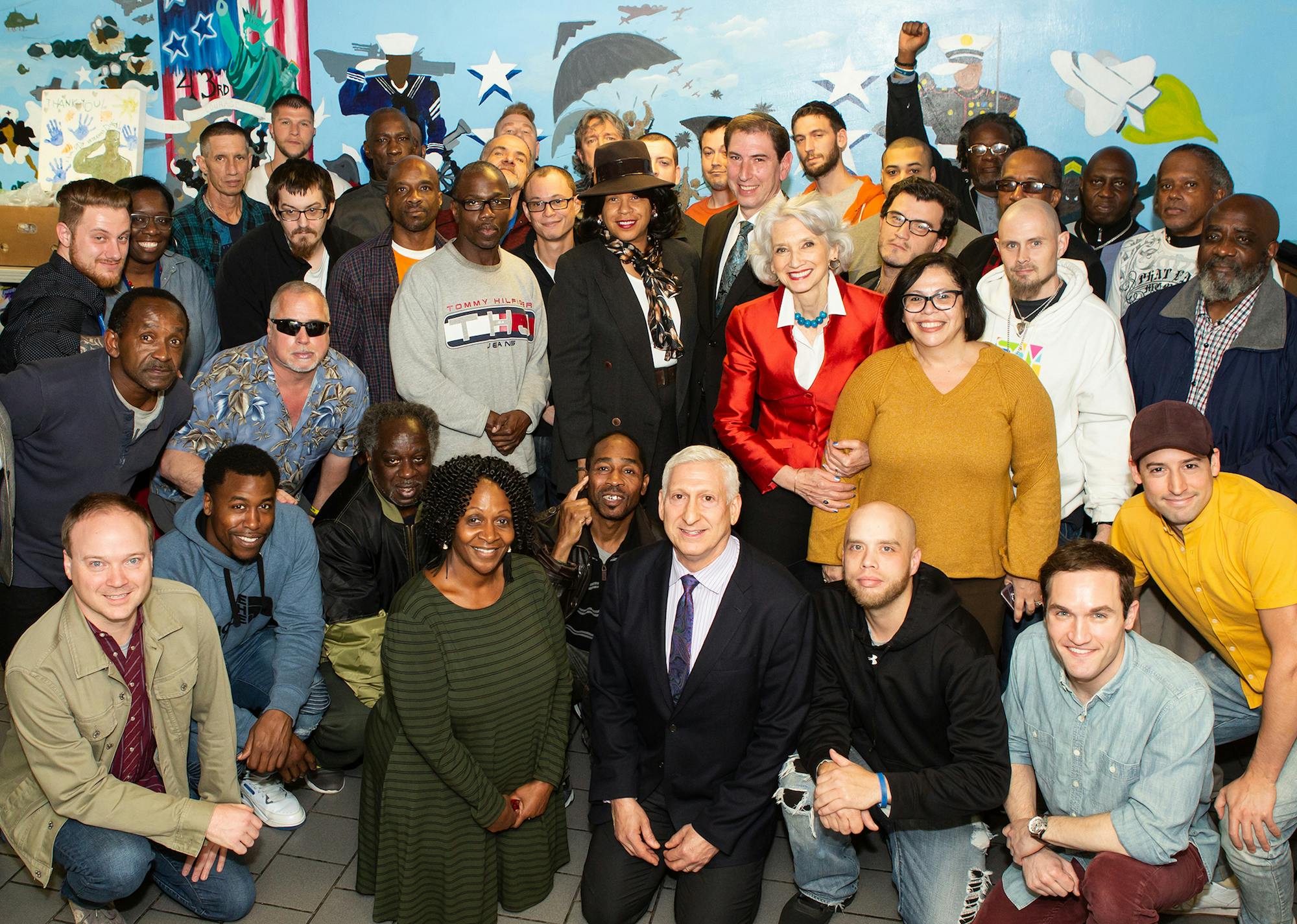 The program kicked off on October 28 with a performance of Oklahoma! and continues through the end of May with designated dates for these Broadway and Off-Broadway shows: Waitress, Christmas Spectacular Starring the Radio City Rockettes, Tootsie, Come From Away, Beetlejuice, A Christmas Carol, Slava's Snow Show, The Illusionists, Mean Girls, Blue Man Group, Wicked, Aladdin, The Phantom of the Opera, Frozen, and The Lion King.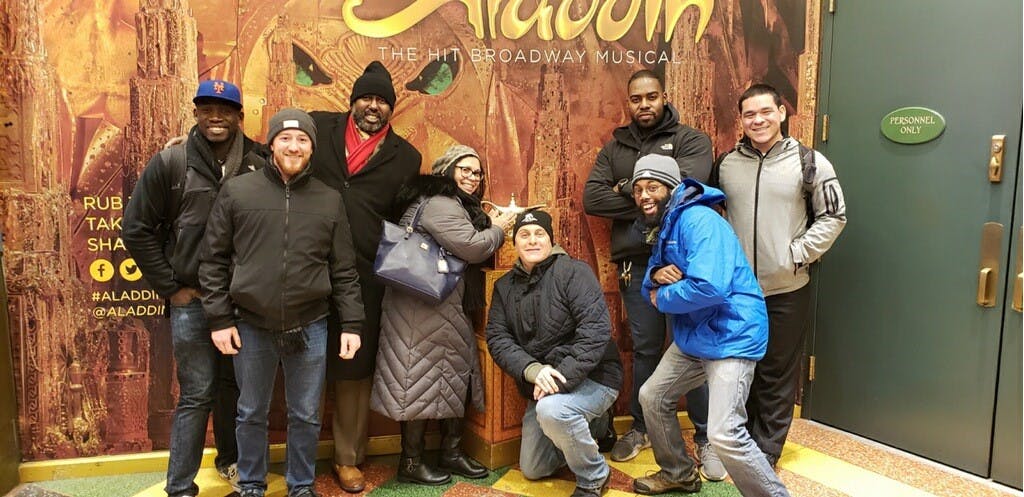 The JFK Terminal 4 team joins TDF and the Stand Up For Heroes performers in thanking veterans and current members of the military for their service.
Header photo credit: Julienne Schaer NYC & Company