Back to Newsroom
As we continue to update the T4 community with important, available information regarding COVID-19, it is our goal to show appreciation for those who make up the T4 family. In our series entitled "Heroes of T4," we're highlighting the inspirational and heartwarming actions of employees who ensure the safety and security of all passengers and staff during the COVID-19 pandemic. In the coming weeks, you can look out for more of these stories as we share them on our digital channels.
Valeria Bobbin– Volunteer, Travelers Aid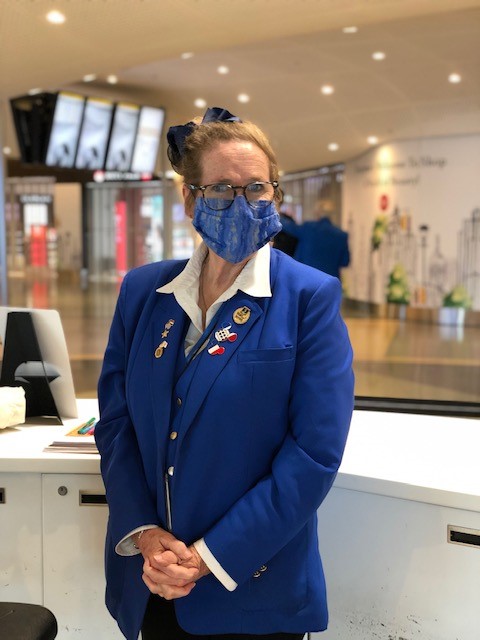 As a former Pan Am flight attendant and retired speech therapist, Valeria says it is an "honor helping people and colleagues" as a volunteer with Travelers Aid. She joined Travelers Aid in 2015 and has found herself at home in T4, assisting travelers at the Info Desk.
Valeria really enjoys helping individuals and groups during their travels by answering questions, helping customers find their gates, and offering maps and brochures to make their journey easier. "It is a true pleasure to share smiles and answer questions about our busy terminal."
Valeria added an additional day of service to her work week, and can be found helping passengers at the Info Desk Tuesdays through Thursdays from 10 a.m. - 2:30 p.m. She says that safety and information are key for the passengers and airport employees - she has made a point of encouraging social distancing with a smile and positive reinforcement.